It's easy to store a car in Fort Worth at Blue Mound 287 Self Storage.  With convenient hours, easy access for you and top of the line security features, Blue Mound Self Storage is the perfect Fort Worth car storage facility.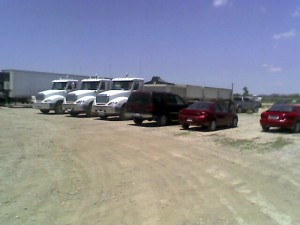 At Blue Mound Self Storage, we can give you good advice about storing right.  Our short-term and long-term Fort Worth car storage solutions will ensure that your car has a secure, convenient home away from home.
Call us today at (817) 439-1485 and ask us about our move in specials for Fort Worth car storage at Blue Mound Self Storage.
Fort Worth Car Storage: Why Blue Mound Self Storage?
Choosing a car storage facility can be a challenge.  We know you have options for car storage in Texas, but Blue Mound Self Storage should be your number one choice for Fort Worth car storage.
Fort Worth car storage friendly staff.  We'll be here to answer questions about the facility, provide helpful tips about storing your car. The facility is owned by a car collector, so we're well versed in the dos and don'ts of car storage.
Secure Fort Worth Car Storage: Individually alarmed units, video cameras strategically placed throughout the self storage are excellent for storing an auto or for furniture storage.
Ft Worth Car Storage with auto alarm arming: When you enter our well lighted, fully fenced facility, you input a code to disarm the alarm on your car storage unit.  The alarm is rearmed automatically when you leave.
Ft Worth Auto Storage with a convenient location: Blue Mound Self Storage can easily be reached from Dallas, Saginaw, Keller, or anywhere in the Alliance Corridor.
Fort Worth Vehicle Storage with 24 hours a day, seven days a week access.  We make it easy for you to take your car in or out of storage anytime of the day or night.
Ft Worth car storage for one car or a whole collection.You can store your car at our Haslet self storage facility, but we also have room to store an entire car collection in our climate controlled storage units.  Check out our storage unit size guide for more information.
Car Storage in Fort Worth TX with wide aisles: We have wide aisles that make it easy to maneuver a car carrier throughout our facility.
Fort Worth Car Storage discounts for members of the armed forces: If you are on active duty, we offer a discount for car storage. Prepay for 11 months and get the 12th month of car storage free.
To learn more about storing your car at Blue Mound Self Storage, call David at (817) 439-1485. David will be glad to show you why Blue Mound Self Storage is the premier Fort Worth car storage.