All Texas storage units are not created equal.  Secure storage is a must.  Your belongings are important to you, so it's essential to find the right North Fort Worth storage facility.  After all, you want to know that the place you are keeping your possessions will be able to keep them safe.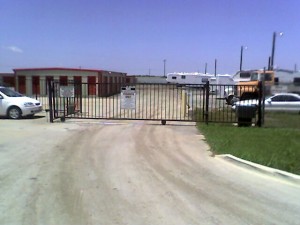 There's no point in storing belongings if you have to wonder about whether your items will be stolen or vandalized.
Blue Mound Self Storage understands that your items are valuable, and we make secure storage a very high priority. We are proud of our state-of-the-art secure storage facilities, spacious storage units, and friendly staff.
Give us a call at (817)439-1485 or send us and email today to learn more about our options for secure storage! Ask about our current move in specials for self storage unit rentals.
Here are some things to look for when you choose a secure storage facility.
Secure Storage Features Video Surveillance
When narrowing down your list of storage units in North Fort Worth, be sure to ask about video surveillance.  A secure storage facility should have cameras at the gate.  These cameras will record images of everyone who enters and exits the storage facility.
The most secure storage facilities also have cameras throughout the facility, not just at the gate.  At Blue Mound Self Storage, we monitor the feed from our video cameras via the Internet. Video cameras are a very effective way to deter theft, and the most secure storage units make good use of this technology.
Secure Storage Is Well Lit and Fenced
Imagine accessing your storage unit in the dark.  Not only is poor lighting inconvenient; it's also a safety hazard.  Good lighting helps you find your unit in the dark and makes you feel safer at night.  Bright lighting is a must for secure storage.
Another great security feature to look for in a Forth Worth storage unit is a fenced facility. There's no point in have a gate if someone can just come in another way.  Blue Mound Self Storage is well lit and fully fenced.
Secure Storage Facilities Feature Disc Locks
A Blue Mound Self Storage, we're very proud to disc locks.  As you drive up to the gate at our secure storage facility, you enter a code which disarms the alarm on your storage unit.  As you leave the facility, the alarm on your unit will be rearmed.
Contact Blue Mound Self Storage today to learn more about this feature and the many other reasons you should choose us for your secure storage needs.