Finding RV storage in North Fort Worth can be a challenge.  After all, an RV takes up a lot of space, and not all storage facilities are prepared to handle something that large.  At Blue Mound Self Storage in Haslet, TX, we provide storage for all kinds of vehicles and household items.  We're also happy to provide RV storage.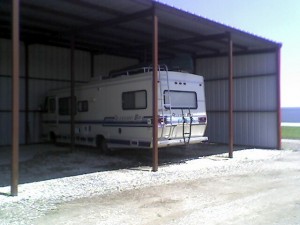 Our Haslet storage facility has a courteous and friendly staff, well-maintained storage units, and a convenient location.  We rent RV storage on a month-to-month basis.  We are also proud of our security features and our 24-hour access.
Email Blue Mound Self Storage or give us a call today at (817)439-1485!
Secure North Fort Worth RV Storage
Your RV represents a major investment, and at Blue Mound Self Storage, we take that very seriously.  We know your RV is important to you, and it's important to us too.  That's why we have such great security features to protect your RV while it is in storage.
Our Haslet storage facility is well lighted and fully fenced.  We have a video surveillance system that is monitored on the Internet.  Cameras are placed at the front gate and at several locations throughout our storage facility.  Our RV storage is extremely secure.
We also feature disc locks, which are complimentary when you lease an RV storage space.  When you enter our facility to access your RV, you input a code at the front gate.  This code disarms the alarm on your RV storage unit.  When you leave the facility, the alarm is rearmed.
RV Storage With Your Convenience in Mind
RV storage needs to be convenient.  Blue Mound Self Storage is conveniently located in the Alliance Corridor.  We make it easy for you to find us and use you RV whenever you like.  Our facility is accessible 24 hours a day, seven days a week.
Blue Mound Self Storage is available for all your storage needs.  Besides RV storage, you may need a place to store your RV-related items.  You can keep off season clothes, suitcases, and other travel gear at our facility.  That way, when you're ready to take off in your RV, getting started will be easy.
Call (817)439-1485 to reach Blue Mound Self Storage today to learn more about RV storage.